We are leading manufacturers of Automatic core cutter machine from India. Our Automatic Core Cutting Machine has designed with Single Phase Power Supply, High Quality Cut, Simple and Efficient Operation, Quick Core Diameter Change, Robust Construction, Cost Effective Machine, Ex-Stock Delivery, Automatic paper core cutting machine
Automatic core cutter is renowned for its value, speed, versatility, long service and high throughput. Then sets the end
stop to the right designation length and sets the target in the core position. Then presses the motor start push button and then switches to Run on Core Cutting Machine.  We feel proud to introduce ourselves as the leading manufacturer, trader, and supplier of Automatic Paper Core Cutter Machine.
Driven chrome plated spindle
Nominal maintenance required
Easy cantilevered operation
Perfect cutting edges
Fast production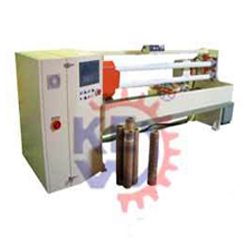 Automatic Core Cutter Machine
---
Technical Information
Maximum width of cut : 450mm
Minimum width of cut : 12mm
Paper core inside diameter : 76mm
Paper core thickness : 12mm
Round Blade Diameter : 150mm
Electric Motor : ½ H.P. A.C
Standard Features
Converters are in constant need of different type of cores according to the size of prints or slitted material. KEW Make Core Cutting Machine Serves this purpose
Compact body, easily movable, safety guards for cutter & movable parts
Drive chrome plated spindle, maximum length 400 mm
Maintenance & hassle free, easy cantilevered operation, perfect cut Edges
Single knife speedy production
Models
Fully Automatic
Semi-Automatic
Manual (Heavy & Light)
Core Cutter Machine is used in cut of paper
Core in different sizes like 12mm. To 1200mm
Core O.D. 1″, 3″, 6″, 8″
Quick Inquiry